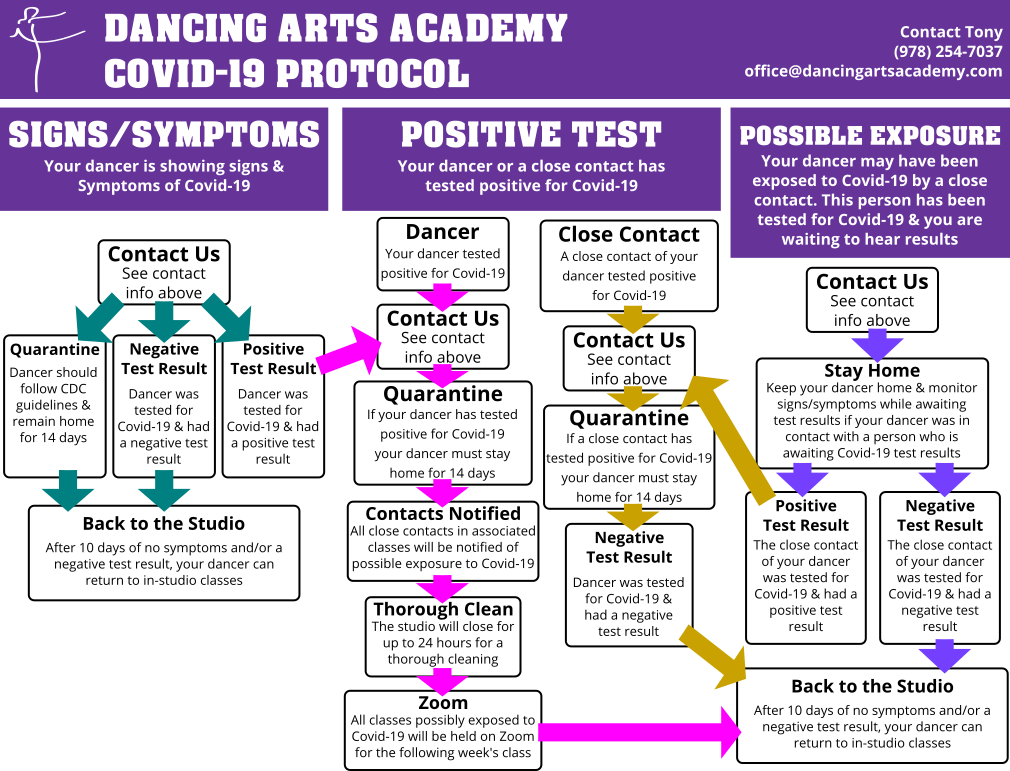 Our entire studio is cleaned on a regular basis and all high touch areas including restroom, doorknobs, cubbies, and light switches are sanitized between classes or on a daily basis as appropriate.
Mask should be worn in all areas of the dance studio by everyone. Exceptions can be made for our preschool students, or those with medical conditions as necessary. Please contact the director ahead of time if you or your dancer will need such an exemption.
We have re-taped our dance floors to give distancing guidance, and provided our staff with the training to facilitate this.
Dancers must abide by the dress code and dress for dance class.  Hair that is long enough to touch the dancer's shoulders must be pulled back.   
There are no street shoes allowed in the studio.
Our front doors are now one-way. All dancers should now enter the building through the LEFT-hand front door When facing the building. Our exit door will be the RIGHT. All dancers will use hand sanitizer at the beginning of class, and throughout as necessary, and will again hand sanitize before they leave the building.
Dancers will be deliberately distanced during mask breaks and water breaks. All of their belongings will be placed in their dedicated location at the beginning of class. Shoes, outer garments, and water bottle will go under the table or in the cubby to which the dancer is assigned at the beginning of class.
Our lobby is closed to most family members during this time. Parents of intro to dance students can accompany their children to the beginning of class And come in to pick up their child at the end of class. Please do your best To limit the amount of time you spend in our lobby to help us and our efforts to stay well below capacity and keep everyone safe."
How to Enter:
Tiny tots and intro to dance students can be walked inside by their grown-ups. Grown-ups may also come in the lobby a few minutes before class is over to help with dismissal. Please wait on the indicated places marker on the sidewalk  to the LEFT side of the doors until a staff member opens the door before class.
Dance 1, 2 and 3 Combo students should Wait with their grownups on the indicated spots outside the building until the staff member opens the studio. The dancer can enter on their own. After class your dancer will be accompanied to your car or you can wait on one of our exit spots marked on the sidewalk to the RIGHT of the doors.
Dancers in Level 4 and older can enter and exit our building carefully on their own. If the dancer cannot see their car from the lobby window, a staff member will escort them to the parking lot at the end of class.
Please help us with student intake and dismissal by being as prompt as possible. We know this is an adjustment, and we appreciate your help in keeping all of our dancers safe.